We have more than 6,300 Coolbluers working with us, such as customer service employees, developers, bike delivery drivers, and solar panel installation experts. We continuously welcome new friends and offer them more than just jobs: we offer them careers and all the training opportunities that come with it.
Our Coolbluers
All for one
2020 figures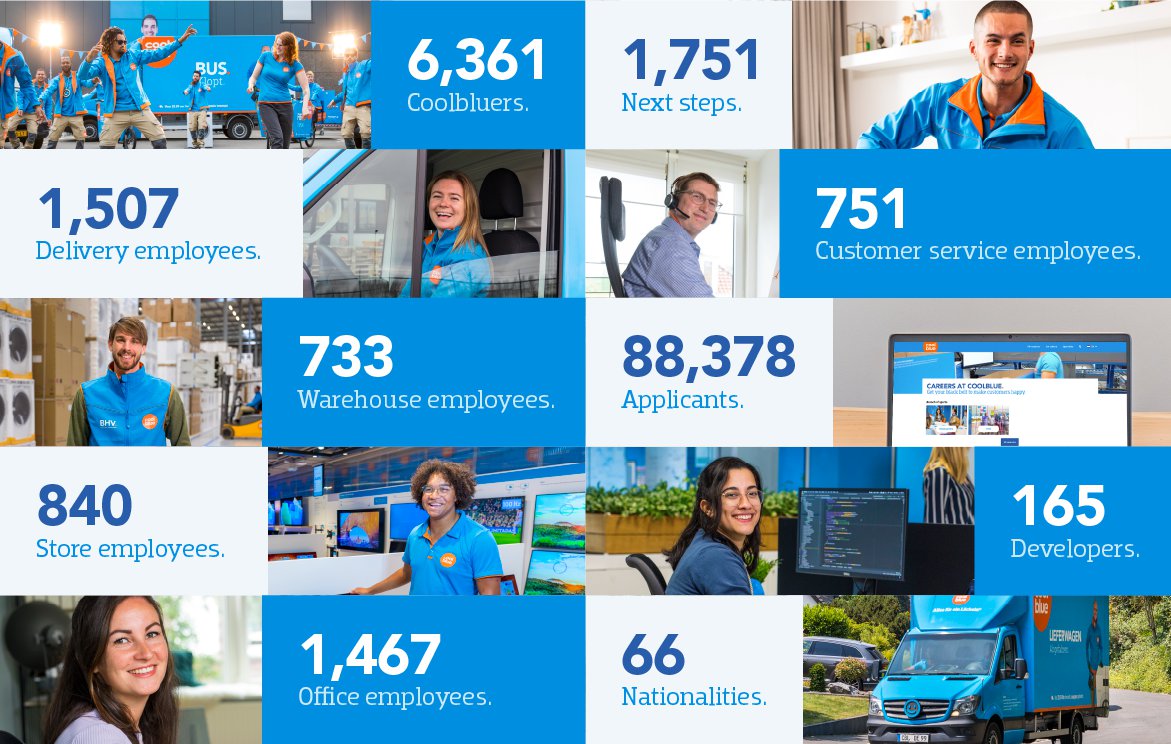 Coolblue Careers
Don't stop me now
We believe in careers rather than jobs, which is why we strongly emphasize training and growth. We offer our Coolbluers various educational opportunities and (online) training courses to help them shape their own growth plan.
Schuurschool
In a collaboration project with ROC Tilburg we have our own Schuurschool. This is a certified, 2-year training at secondary vocational level that teaches students everything there is to know about logistical processes. The students work in our warehouse from day one of their training.
After they have completed their training, they are offered a permanent position at Coolblue and plenty of next-step options. This way, we provide students with an education, valuable work experience, and an official diploma. At the same time, we can welcome employees that have had thorough training.
Suniversity
At our own internal educational institute, the Suniversity, we train our Solar Panel Installation Experts. We recruit these experts from our own delivery drivers and give them the opportunity to take the next step in their career.
Next Steps
In 2020, 1,751 Coolbluers have grown into a new position. We share the success stories of Shaqeel, Daan and Sanne.
Shaqeel Zimmerman
Shaqeel, famous for the Coolblue hit song, started as a Delivery Driver in our Apeldoorn depot and grew into the position of Built-in Installer. Now that we have started with white goods repairs at the customer's home, Shaqeel has found an opportunity to develop himself even further. He is currently following an internal training to become White Goods Technician and has already made many customers happy with repaired white goods.
Daan van Lier
Daan started as a Logistics Employee, but soon found out that his true passion is analyzing data. He grew into the position of Lead Analyst and is now Manager Analytics Finance & Operations. Together with his team of analysts, he supports the supply chain based on data analyses.
Sanne Vlaardingerbroek
Sanne started as Cross-sell Manager, grew into the role of Product Owner, then into the role of Domain Boss Ordering, and is now Head of Business Journeys. Every day, she uses her talents to rapidly expand Coolblue Business Journeys. Sanne for example launched the Home Office Stores proposition, of which she and her team opened 41 in 2020.
Careers at Coolblue
Get your black belt to make customers happy