These are our core values. They describe who we are, what we represent, what unites us, and how we interact. Our core values define our culture and help us make choices for the future. We use these values for every decision, no matter how small, to see if it would suit us or not.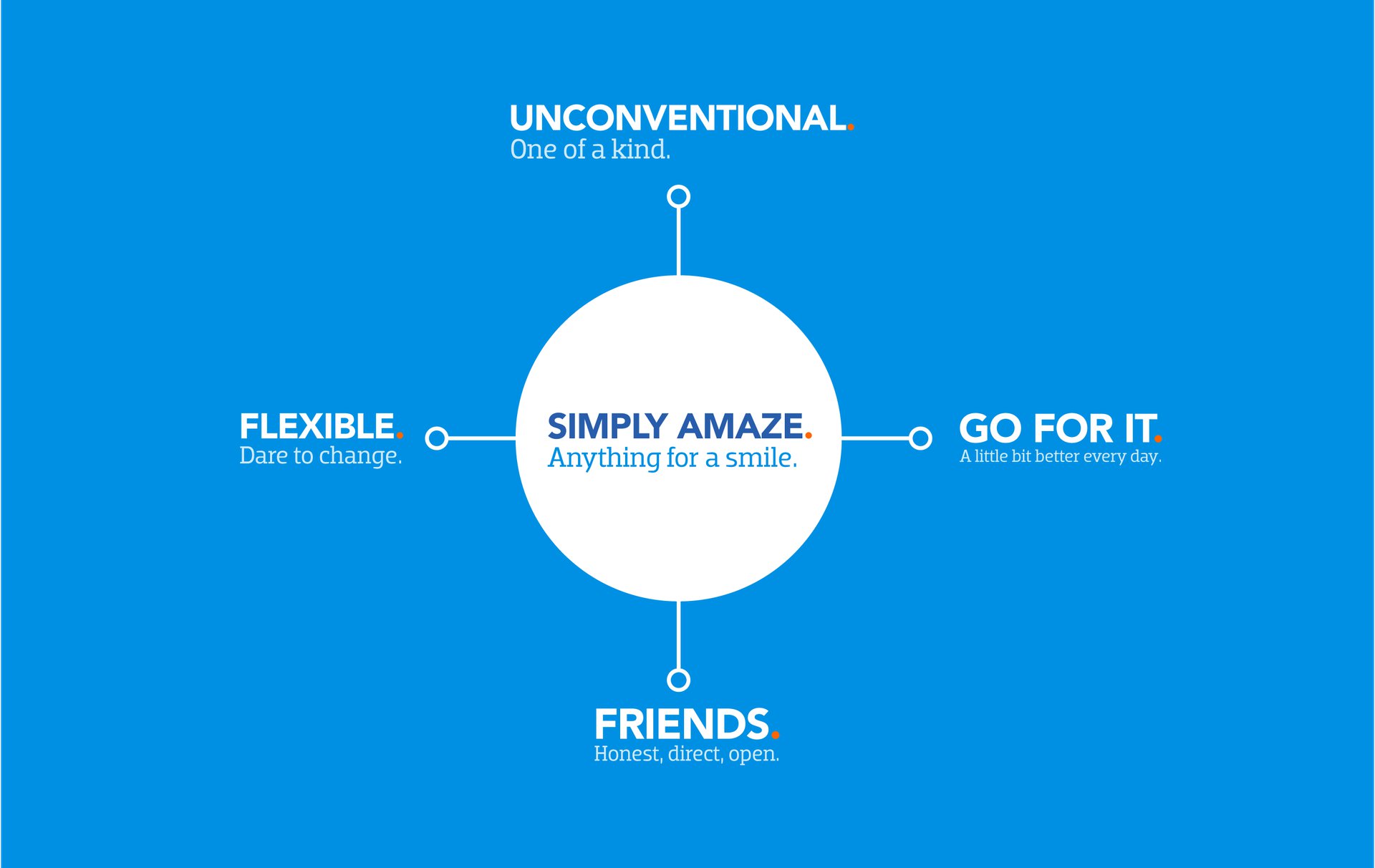 Unconventional
One of a kind
We are proud of our real, unconventional Coolbluers. That is why they appear on our websites and in our commercials, just the way they are.
Being unconventional means that Coolbluers can and dare to be themselves, regardless of whether they are outgoing or a little more quiet. Although this may sound contradictory, it is precisely this unconventionality that unites us.
We are all doing this for the first time. We might not have all the answers right away, but we will surely try. Because only by doing what no one has done before can we be truly unconventional.
People who are true to themselves are hard to copy. That is why we always ask ourselves with everything we create whether it really suits us. If we were to cover our logo and the remainder cannot be recognized as Coolblue, it needs to be more unconventional.
Friends
Honest, direct, open
There are few companies where so many colleagues are friends as well. Friendship is our strength because together, we know more, we can achieve more, and we have more fun.
People take notice.
Such as our customers, who happily visit us again and our suppliers, who view us as long-term partners. We are always honest and direct, even if it is difficult at times. We keep our promises and we are open to feedback.
Friendship can only prosper between equals. That is why ties are the least-common item worn at Coolblue, why Coolbluers honestly speak their minds, and why we are always honest, direct, and open to our customers.
Go for it
A little bit better every day
Our no-nonsense, entrepreneurial attitude can be phrased in many ways. Less talk, more action. Actions speak louder than words. At Coolblue, we simply refer to this attitude as go for it.
An idea only becomes valuable when given a follow-up. We got to where we are now by preferring immediate action over endless discussions and by doing things a little bit better every day. We improve step by step and detail after detail. Not everything works the first time around, but we take the risk and go for it. We make mistakes and learn from them.
We are constantly changing, either because we can or because we have to. Coolblue has had a flexible structure from the start to support our rapid growth. 'This is how we have always done it' is never a valid reason for us.
Our flexibility shows in our Coolbluers who do not mind working with a sudden change of plans or team. It also shows in Coolbluers who continue to learn outside of their own expertise. And lastly, our flexibility is reflected by the systems we build that can handle twice the expected load.
Flexibility is also key in our obsessive focus on customer satisfaction. We gladly go the extra mile for our customers and are convinced that exceptions exist to be made. 'Just because' is also a valid reason to us.
Simply amaze
Anything for a smile
The words simply amaze appear to be contradictory, but describe exactly who we are as Coolblue: both unconventional and down-to-earth.
The term simply speaks volumes. We have simply built a straightforward website where customers can quickly and easily place an order. We then simply package that order in a bag or box and simply ship it to our customers. For free, of course.
Amaze means that we need to exceed expectations and that we need to go the extra mile to surprise our customers, to make them smile. A smile might be a common gesture, but it often requires something amazing.