At Coolblue, we do anything for a smile. To do this, we focus on 2 goals: being an example company in customer-centric entrepreneurship and adding value. To achieve these goals, we carefully examine per product type what the customer needs and arrange our product journeys to facilitate this.
The most customer-centric product journey
Ticket to success
From giving advice on a purchase to delivering an order, all our Coolbluers work hard to make the difference. That is why we have created product journeys from A to Z for our 1,100 product categories that make the customer happy. We show how we do this in 3 examples: the product journeys for washing machines, televisions, and laptops.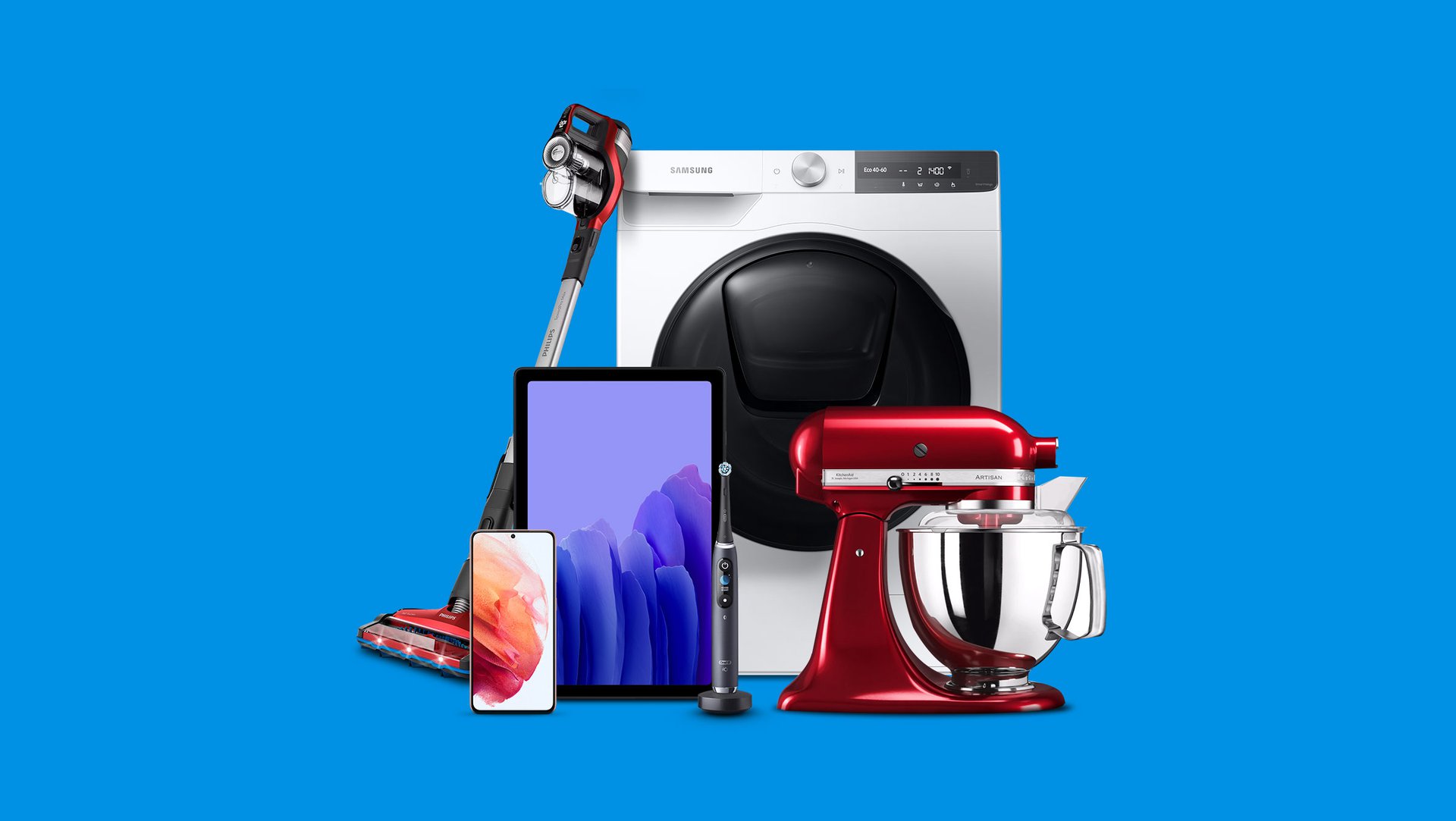 Washing machines
Customers usually buy a new washing machine because their current appliance broke down or because they want an energy-efficient one. Because it is difficult to transport an 80-kilogram appliance themselves, we offer our delivery service. And if customers want us to, we also install it where they want it. Even if this is on the fourth floor or in the basement. Our delivery drivers also bring accessories from our own BlueBuilt brand. Customers can instantly buy these during the delivery.

Our delivery drivers also take the old appliance back with us. We recycle and refurbish them, so we can make other people happy with them. This way, we not only try to do things a little bit better every day, but also a little bit greener.

We also offer washing machine subscriptions. These energy-saving washing machines are delivered at home and repaired or replaced within 48 hours if they break down.
Televisions
We help customers find the television that suits them. WIth our app, they can virtually place TVs in their living rooms through augmented reality. This allows them to instantly see whether the television suits the place they have in mind. With our product filter and advice articles, we help them determine the best image quality and find matching accessories, such as a soundbar.
In our stores, customers can compare our large assortment of televisions. Our television experts are ready to give advice about the various models. Customers can book an advice appointment via our website or simply drop in without appointment. And during delivery, our delivery drivers will mount the new TV on the wall if the customer wants us to.
Laptops
Customers usually start browsing for a new laptop once their current laptop is becoming slower.

Our experts are happy to tell them everything there is to know about the different models and specifications. This way, customers can easily find a laptop that matches their use case and needs.

To make sure that our customers can find the right laptop, our experts determine every day what they really want and need. Based on this customer data, we commission manufacturers to build laptops. These laptops have exactly what customers need and are sold exclusively at Coolblue.
Infrastructure
Complete package
In order to offer the most customer-centric product journey, we have built our own infrastructure in the Netherlands, Belgium, and Germany. It consists of our own warehouse, our own stores, delivery network, and installation service.
Warehouse
In our own warehouse in Tilburg, we store all our products. Here, real Coolbluers prepare orders for shipment. This allows us to deliver on our next-day delivery promise and ensures that customers never have to wait for their package for long. From here, we ship to our 22 hubs, 22 stores, and millions of customers in 3 countries.
Stores
In our 22 stores, customers can pick up their order, view over 1,000 products, and even try them out. And we are happy to give advice, whether on appointment or not. Our experts assist with the use of a product, carry out repairs for broken smartphones and tablets, and help customers with returns.
Delivery and installation
In order to deliver products the next day, we have our own delivery network. From our central warehouse, we ship packages to our own stores and to customers. Our TV and white goods delivery drivers can also install the appliance right away.
Bike delivery
Customers can pick up their order in one of our stores or have it delivered at home within a time slot of their choosing. We do this with our own delivery service CoolblueBikes in and around 22 large cities in the Netherlands and Belgium, and since 2021 in North Rhine-Westphalia as well. This is not only green, but also ensures less cardboard consumption, because we use paper shipping bags for this.
Own software development
We are very proud of our developers who create our own software systems. These systems support our physical stores, the warehouse, and our delivery service. Our 59 development teams improve the systems every day, so that we can offer customers the best service via our website and app.
Website
Our website contains all the information about products, expert advice, and customer reviews. We highlight the best and most energy-efficient products with our "Coolblue's Choice" and "Coolblue's Green Choice" labels. This way, we assist customers in making the right choice for them.
The Coolblue App
With the Coolblue App, over 1 million customers have the best assortment and many more of our service at their fingertips. The app can for example be used to place an order, compare products, and to see what that new television would look like on the wall at home. After purchase too, customers can easily find their order and see exactly where and when it will be delivered.

In our stores, customers can use the Coolblue App's in-store mode, with all the advantages we also offer online. Additionally, they are automatically placed in the queue when they enter the store, so they will be helped soon. With the Coolblue App, they can scare all the QR codes next to the products for more information.
Customer service
Our customer service is ready to help every day of the week and can be reached until midnight via phone, email, social media, or simply on our website. We have customer service teams that specialize in product types to provide customers with the right advice and to prevent unnecessary returns.
Scalability of customer-centric entrepreneurship
There is more to the most customer-centric product journey than just a physical infrastructure. Through our self-built software and technology, we can constantly test and optimize every part of the product journey. Thanks to this approach, we can not only expand our product journeys, but also scale up internationally and branch out into adjacent services, such as business product journeys.
Business products
Work like a charm
We have already offered business services for some time, but with working from home and hybrid working as the new standard, new needs arose among business customers. We fulfill these needs via our Home Office Stores, through which business customers can provide their employees with the right equipment for a comfortable home office. In their personalized Coolblue environment, they can determine the amount of shopping credit and the assortment they want to offer their employees, ranging from sit-stand desks to headsets. Thanks to our infrastructure, we can deliver and install all products at the desired place and time.