Go Green
Eco-logical
Go Green ties in seamlessly with the most customer-centric product journey, because it leads to a higher customer satisfaction and prepares us for the future. We performed a materiality assessment to determine our most important focus areas. This led to 4 pillars: reducing energy consumption, decreasing CO2 emissions, minimizing waste, and extending product life cycles.
Materiality Assessment
In 2022, we again asked an internal group consisting of managers, our Works Council, and the Management Board to fill out the materiality assessment. They rated Environmental, Social, and Governance topics based on their impact and importance using a 5-point scale. The resulting average rating led to a topic's position in the materiality matrix. The results showed little change compared to last year's and confirmed that the topics we have been focusing on are in line with what these groups find important.

Importance: This scale indicates of how much ethical importance a topic is to our target group.
Impact: This entails the impact a topic can have on Coolblue's economic, environmental, and social performance.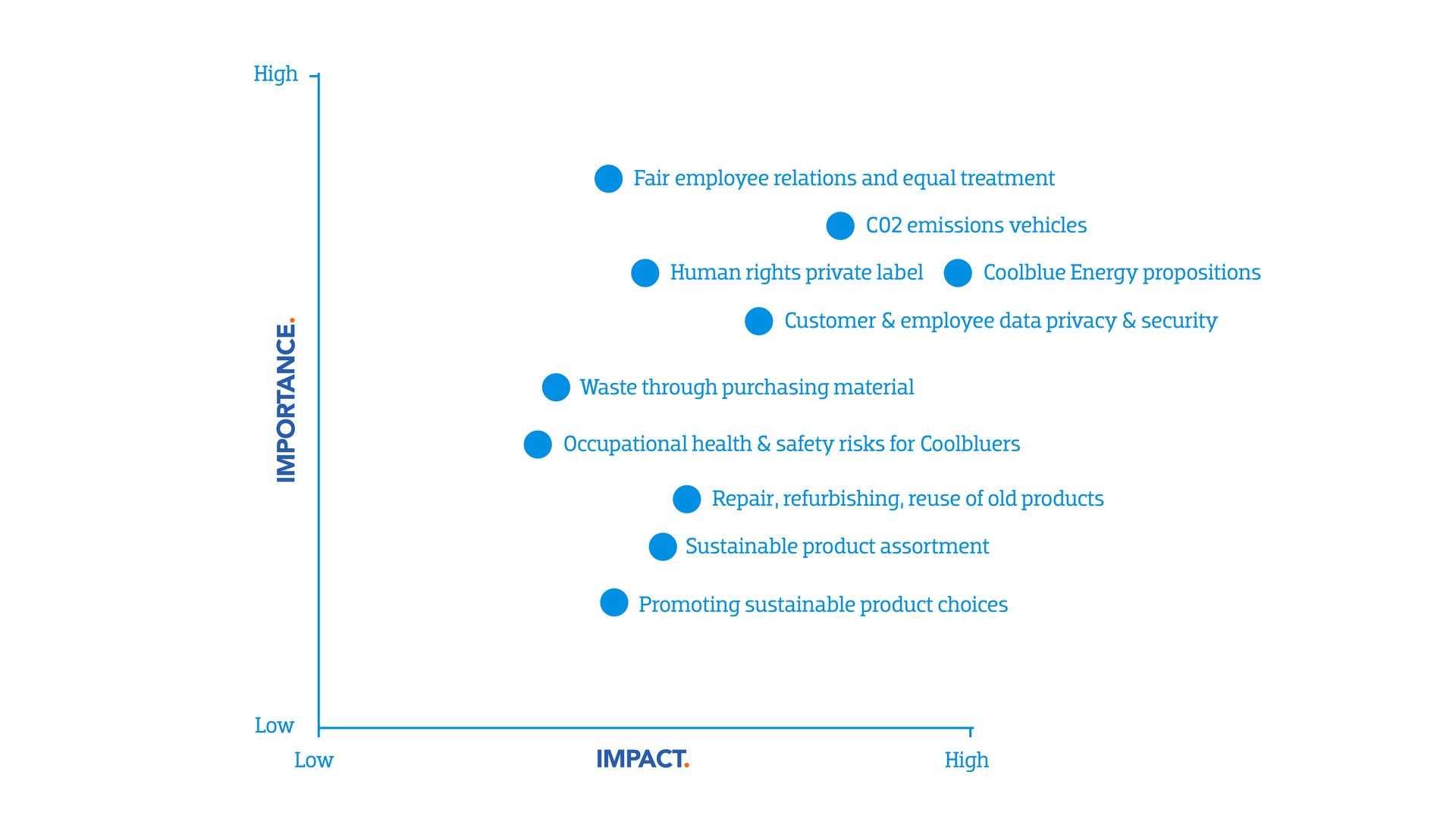 Reducing energy consumption
Less is more
Compared to previous years, 2022 showed even more how important it is to reduce our energy consumption and to generate our own. With the solar roof on our warehouse, we were able to make our warehouse energy positive in 2022. And we use green energy at all locations we are free to choose the energy contract for.
We can reduce energy consumption much more if we help all our customers do the same. For this reason, we have built Coolblue Energy for everyone who wants to save energy. And energy saving starts with insights. All Coolblue Energy users get insight into their energy consumption. They are also directly connected to the Energy Saving Store for products such as energy-efficient washing machines, smart plugs, smart lights, solar panels, and charging stations, at a discount. And we help customers find the best products for their use case via our Coolblue's Green choice label.
For our solar panels and charging stations, we have built our own nationwide installation service. This way, we fully control the entire process and offer the best product journey. In 2022, we installed our 100,000th solar panel with this service.
Decreasing co2 emissions
Exhaustive approach
We want to keep our CO2 emission in the delivery phase of the product journey as low as we can. The best way to do this is by planning routes and driving them as efficiently as possible. To ensure that we do just that, we have acquired and fully integrated Plotwise, a company that specializes in last mile delivery planning. Having the expertise in-house allows us to optimize our routes even further.

Our greenest delivery proposition is CoolblueBikes. With virtually no emission, we deliver up to 90% of our parcel-sized orders by bike in 22 of the largest cities in the Netherlands, Belgium, and Germany. In 2022, we delivered 1.2 million products this way, saving 366,000 kilograms of CO2 emission.
Minimizing waste
Bin there
We aim to minimize waste throughout the product journey and maximize the degree of sustainable materials we use. Before we discard the old products we take in from our customers, we first try to repair, refurbish, and recycle them. We encourage customers to choose this option over directly discarding their products, for example by giving them a discount on a new smartphone if they hand in their old device. And if customers order white goods with us, we take their old product back with us for free when we deliver their new appliance.
In the packaging of our products before shipment, we want to use as little cardboard as possible. We do so by perfectly tailoring boxes and bags, or shipping products without additional packaging. In our warehouse, we installed an automatic bag machine and further reduced the cardboard consumption of our box machines. As a result, we reduced our cardboard consumption by 620,000 kilograms in 2022 and sent 27% of our packages without additional packaging. We also optimized our store replenishment process, which saves 120 kilometers of black seal yearly.
Extending product life cycles
Positive chain reaction
We actively provide assistance with prolonging a product's life cycle through advice articles that offer information, maintenance assistance, and explain simple repairs. For returned products, we first check whether they can be sold as new or as a Second Chance product on our website.
A breakdown does not always mean a product needs to be replaced. We help customers enjoy their product for longer by offering repair services for tablet & phone repairs in our stores and even repair white goods at home. Through this last service, we repaired 7,853 appliances in 2022.
White goods refurbishment
If it cannot be repaired, an appliance may still contain operational elements. We examine the white goods we take in and create refurbished products from those elements. In 2022, this approach allowed us to refurbish 15,735 washing machines. If we can neither repair nor refurbish a product, we opt for recycling at the highest grade possible.