The Coolblue Story
Anything for a smile
Coolblue is a unique online electronics and energy retailer with an obsessive focus on customer satisfaction. By integrating our website, app, own customer service, our 22 physical stores, and our own delivery and installations services, we build leading market positions in consumer electronics and energy in the Netherlands, Belgium, and Germany.
With everything we do at Coolblue, we have 2 goals: setting the bar for customer-centric entrepreneurship (NPS) and creating value (EBITDA). Although they might seem like 2 contradictory goals, they are of equal importance and we see that in practice, they actually reinforce each other.

In order to realize these goals, we measure everything. We use the data to build value trees to map out the impact of every underlying driver of the NPS and EBITDA.This way, we can optimize every step of our product journeys and as a result make customers happy. Not only does this lead to customers coming back more often and recommending us to others, but it is also the most cost-effective approach on an operational level.
The most customer-centric product journey
Ticket to success
We do not sell everything. We only offer 1,100 product categories of which we know we can differentiate by developing leading product journeys from start to finish. To do so, we have built our own digital and physical infrastructure in the Netherlands, Belgium, and Germany. It consists of our own warehouse, delivery network, installation services, and physical stores. To support this, we have built an extensive technology and software stack. Our technology platform is continuously optimized by our 59 development teams. They improve the way our website, app, and other applications contribute to the most customer-centric product journey.
Our infrastructure
The complete package
Warehouse
In Tilburg, we have our own 88,000m2 solar-powered warehouse where we store, pick, and pack all our products. Thanks to our highly automated and mechanized processes, we can make super fast, super efficient delivery propositions. From our central warehouse, we ship to our 22 hubs, 22 stores, and millions of customers in 3 countries.
Delivery and installation network
For the last mile we have our own delivery network in the Netherlands, Belgium, and Germany, consisting of a 2-man delivery network for white goods and a 1-man delivery network for other larger products, such as televisions. Delivering these products ourselves allows us to offer services behind our customers' front door, such as placement, installation, and mounting services.
Bike delivery network
For the smaller products, we have our own bike delivery service, CoolblueBikes, in and around 22 large cities in the Netherlands, Belgium, and Germany. In these areas we deliver up to 90% of the smaller products by bike in a paper shipping bag. With this shipping bag, we use less cardboard and save space, allowing us to fit even more orders in our bikes. This way, we make more customers happy per bike trip, and it is also very green. Thanks to this unique infrastructure, we can constantly deliver on our promise and achieve a high NPS.
Stores
At Coolblue, we do anything for a smile. It is why we have 22 Coolblue stores where customers can try over 1,000 products, such as televisions, headphones, and smartphones. Customers can also pick up their order right away and get advice from one of our experts about the best product choice for them. This can be on appointment, too. Our experts help customers with returns, assist with the use of a product, and carry out repairs.
App integration in stores
To make shopping even easier for our customers, we have built an in-store mode for our app. It makes sure that customers with an appointment do not have to wait in line for no reason, because we automatically register them in our queueing system as they walk in. Customers can also easily compare products by scanning the QR codes next to them. That way, they immediately have all the information handy.
The website
On our website, customers can find elaborate product information, expert advice, and customer reviews. We highlight the best and most energy-efficient products for their use case with the Coolblue's Choice and Coolblue's Green Choice labels. With constant optimizations, we ensure the best possible customer experience. Additionally, we enhance the Self Service capabilities on a frequent basis, giving customers more control over their order.
The Coolblue App
The Coolblue App offers our full range of products and services to more than 1 million users. The app allows us to go one step further in the customer product journey, whether it is virtually placing a tv in a customer's living room or checking a phone's compatibility with a phone case in the customer's shopping cart. It helps us to offer a smoother customer experience by allowing easy track and trace, easy registration of a return, and quickly finding answers to frequently asked questions.
Customer service
At Coolblue, we do anything for a smile. It is why we have our own multilingual customer service in the Netherlands, Belgium, and Germany. Customers can reach us until midnight every day of the week via phone, email, social media, and our website. Additionally, customers can easily find the right answer to their questions on our customer service page.
Coolblue customer service teams
Coolblue customer service teams are specialized in a specific product type, like washing machines, or a specific stage of the customer journey, such as payments. On top of expert advice, these specialist customer service teams offer an improved customer experience, prevent unnecessary returns, reduce customer effort, and lower operational costs overall. They do so from their own homes, which adds to the flexibility and scalability of our customer service.
Cassie
Our specialist customer service teams relay valuable feedback to our product managers, so that we can make our website and app a little bit better every day. They do so by registering customer contact in our self-built tool Cassie. This way, we reduce the customers' need to contact our customer service, which contributes to a higher NPS.
Coolblue Energy
Sparks joy
Coolblue is for everyone who wants to save energy. And energy saving starts with insights. All Coolblue Energy users get insight into their energy consumption. They are also directly connected to the Energy Saving Store for products such as energy-efficient washing machines, smart plugs, smart lights, solar panels, and charging stations, at a discount.

On top of that, we have built our own nationwide installation service for solar panels and charging stations. This way, we fully control the entire process and offer the best product journey.
Coolblue Suniversity
To make sure that the installation is fully done in the Coolblue manner, we train our installation experts ourselves at the Coolblue Suniversity, our own educational institution. This means we teach our employees not just about the profession, but also about customer friendliness.
CULTURE
Company ingredient #1
These are our core values. They describe who we are, what we represent, what unites us, and how we interact. Our core values define our culture and help us make choices for the future. We use these values for every decision, no matter how small, to see if it would suit us or not.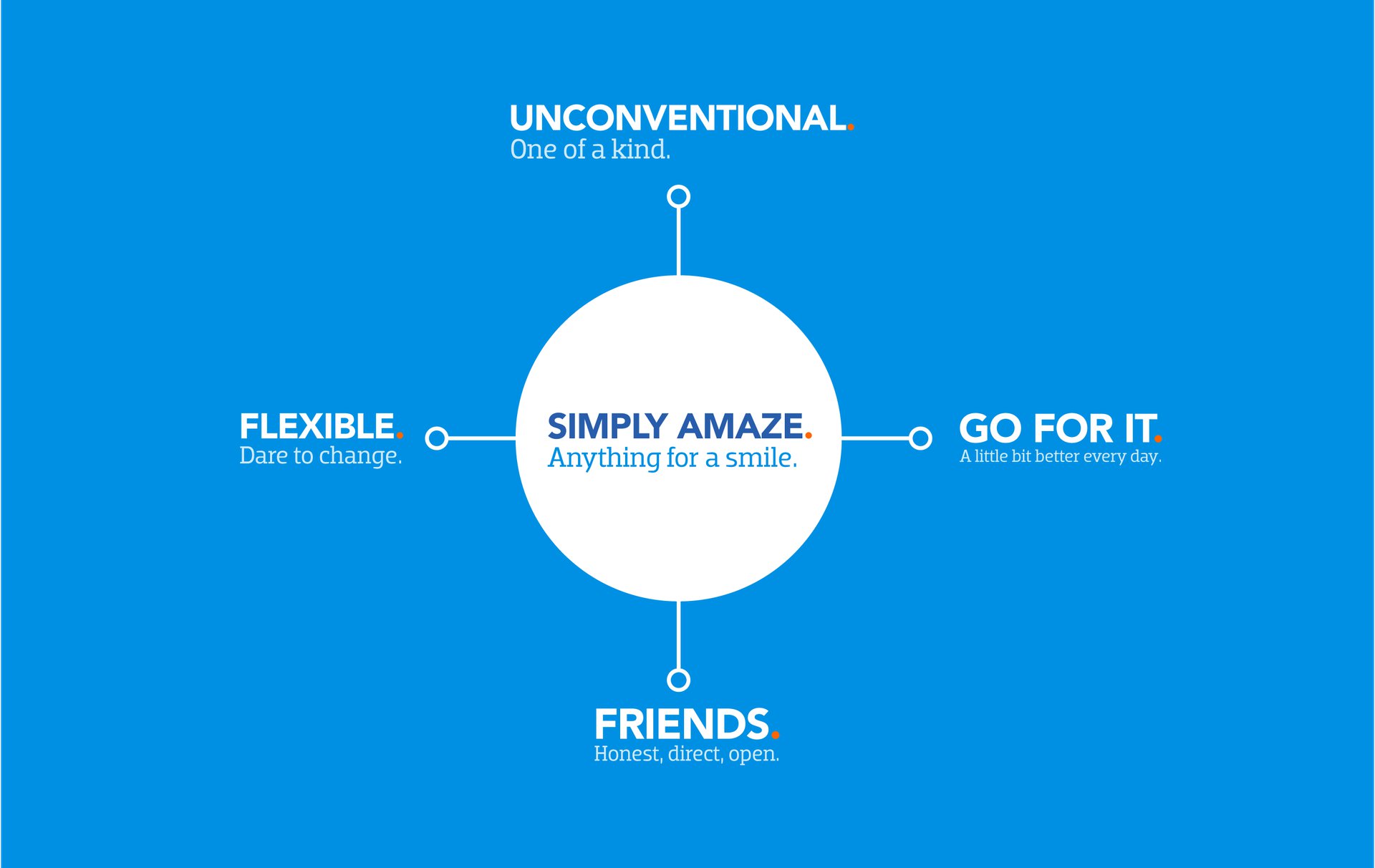 Unconventional
One of a kind
We are proud of our real, unconventional Coolbluers. That is why they appear on our websites and in our commercials, just the way they are.

Being unconventional means that Coolbluers can and dare to be themselves, regardless of whether they are outgoing or a little more quiet. Although this may sound contradictory, it is precisely this unconventionality that unites us.

We are all doing this for the first time. We might not have all the answers right away, but we will surely try. Because only by doing what no one has done before can we be truly unconventional.
People who are true to themselves are hard to copy.

That is why we always ask ourselves with everything we create whether it really suits us. If we were to cover our logo and the remainder cannot be recognized as Coolblue, it needs to be more unconventional.
Friends
Honest, direct, open
There are few companies where so many colleagues are friends as well. Friendship is our strength because together, we know more, we can achieve more, and we have more fun.

People take notice. Such as our customers, who happily visit us again and our suppliers, who view us as long-term partners. We are always honest and direct, even if it is difficult at times. We keep our promises and we are open to feedback.

Friendship can only prosper between equals. That is why ties are the least-common item worn at Coolblue, why Coolbluers honestly speak their minds, and why we are always honest, direct, and open to our customers.
Go for it
A little bit better every day
Our no-nonsense, entrepreneurial attitude can be phrased in many ways. Less talk, more action. Actions speak louder than words. At Coolblue, we simply refer to this attitude as go for it.

An idea only becomes valuable when given a follow-up. We got to where we are now by preferring immediate action over endless discussions and by doing things a little bit better every day. We improve step by step and detail after detail. Not everything works the first time around, but we take the risk and go for it. We make mistakes and learn from them.
We are constantly changing, either because we can or because we have to. Coolblue has had a flexible structure from the start to support our rapid growth. 'This is how we have always done it' is never a valid reason for us.

Our flexibility shows in our Coolbluers who do not mind working with a sudden change of plans or team. It also shows in Coolbluers who continue to learn outside of their own expertise. And lastly, our flexibility is reflected by the systems we build that can handle twice the expected load.

Flexibility is also key in our obsessive focus on customer satisfaction. We gladly go the extra mile for our customers and are convinced that exceptions exist to be made. 'Just because' is also a valid reason to us.
Simply Amaze
Anything for a smile
The words simply amaze appear to be contradictory, but describe exactly who we are as Coolblue: both unconventional and down-to-earth.

The term simply speaks volumes. We have simply built a straightforward website where customers can quickly and easily place an order. We then simply package that order in a bag or box and simply ship it to our customers. For free, of course.

Amaze means that we need to exceed expectations and that we need to go the extra mile to surprise our customers, to make them smile. A smile might be a common gesture, but it often requires something amazing.